Covid 19  –  Return to Golf Phase 3
Phase 3 of the Return to Golf Protocols are due to start on Monday 29th of June. Strict rules and protocols will still be in place and MUST be adhered to. You should familiarize yourself with the protocols issued by the GUI/ILGU which may be view by clicking HERE.
Covid 19 Information
To get latest information from the HSE click  HERE
Winter Series
Unfortunately the recent icy spell has seen us lose the latest Winter Series Weekend. As it stands we have 2 qualifying weekends left – Feb 1/2nd and Feb 8/9th, with the grand final taking place 2 weeks later on Sunday 23rd Feb between 10am and 12pm
There will be a Club Comp as per usual this weekend, Jan 25/26th and also Feb 15/16th.
Just to remind you all that the name of the game is to get into the top 30 qualifiers for the winter series final when everyone starts afresh, and the best score on the day will take the title.
Here's hoping we get a good run of weather for the rest of the series giving you all every opportunity to make the top 30 in the final 2 qualifiers
Order Merit Week 5
NO NAME                                                       RD 1 RD 2 TOTAL
1 EDDIE BALFE                                             35      37        72
2 PATRICK FITZPATRICK                          33      37        70
3 MICK STAFFORD                                      34      35        69
4 BRIAN O'CONNOR                                    33     35        68
5 FRANKIE MORRISSEY                             35     32        67
THOMAS KIELTHY                                       33     34       67
7 JOHN DELANEY                                         33    33       66
8 DECLAN LYONS                                         34     31       65
JOHN BAIL                                                      32     33      65
10 BOB HAMMEL                                          29      35      64
BRIAN MULLARKEY                                    33      31      64
DECLAN BYRNE                                            32      32     64
JAMES MORRISSEY                                     34      30     64
KEITH WHELAN                                           32       32     64
KEVIN CONNOLLY                                       30       34    64
NICKY MURPHY                                            33      31     64
17 JOE DELANEY                                           33      30    63
18 BRENDAN BYRNE                                    30     32    62
JAMES GILBERT                                            32     30    62
JOHN HEALY                                                  31      31    62
LARRY O'CONNOR                                       29      33   62
MURT MANGAN                                            32     30   62
NICHOLAS CAHILL                                      32     30   62
SHANE FORTUNE                                        28      34   62
25 DENIS DUNBAR                                       30     31    61
EOIN REDMOND                                          29      32    61
JAMES SHERIDAN                                      32       29    61
MICK WICKHAM                                          33      28    61
RAJ TIRBHOWAN                                        29      32    61
TED MORRISSEY JNR                                 31      30    61
Enniscorthy Golf Club to Host Flogas Event
The 'Flogas Irish Junior Open Tour' is Ireland's largest and one of Europe's biggest Junior & Adult/Junior golf tours with competitors travelling from all over the world to compete. Catering for boy and girl competitors under the age of eighteen it provides year round professionally run seasonal golf tours across many of Ireland's finest courses.Competing for numerous trophies, prizes and the prestigious Gary Player & Payne Stewart Trophies.
Following the amazing success of the Cooper Brothers (Sean & Ruairi) in this years Flogas Irish Junior Golf Series. We are delighted to announce that Enniscorthy Golf Club has been chosen to host one of the Flogas Irish Junior Open Events in May of 2020. This is a fabulous way to showcase our magnificent course to Junior players from all over Ireland.
Winter Rules
Winter Rules will be in effect from 2nd October 2019 force until further notice.
When a player's ball lies in the general area the ball may be lifted, cleaned and replaced without penalty.
The player must mark the spot before lifting the ball and the ball must be replaced
* within 6 inches of its original spot, and
* not nearer the hole
(see Rule 14)
Denis Dunne & Mary Halligan
Hon. Competition Secretaries
New Local Rule (Re Exposed Roots)
There are a number of locations around the course where exposed tree roots can be found at the edges of fairways. In response to this we have now brought in a new Local Rule which will allow players to get a free drop away from these exposed roots when their ball rests against the root on the fairway.
Free relief can be taken one club length, not nearer the hole, from the nearest point of complete relief from the exposed tree root. However this free relief can only be availed of when ball is on fairway and relief is not available if tree root only interferes with stance. Click Here to view rule.
Work on 1st Green
Work on the construction of our new first green has now commenced. As a result, the first green area will be a work site until the project is complete and will be deemed to be "Out of Bounds"
The following will apply from commencement of the work until further notice;-
• The first green and surrounding area will be "Out of Bounds"- white lines will mark this.
• All play will start on the 2nd teebox for competitions /society outings. Casual golfers may, if they wish start on the 3rd tee or elsewhere.
• A shortened 18th hole with a temporary teebox will be in play Monday to Friday due to Health & Safety issues for those working on the new green.
• A temporary Par 3 will be in place between the 13th & 14th holes till the end of October.
Men's Golf Introductory Program
Enniscorthy Golf Club is starting a new Get into Golf Programme for Men at the end of April 2017.
The Programme runs over five weeks beginning with an introductory night for Registration on Wednesday 26th of April at 7pm. Programme cost is €40.
The group will then be brought together for four golf sessions over the following four weeks. These sessions will be in the form of a scramble accompanied by a mentor (a current club member) for a bit of fun golf over nine holes. Each team will be seen and given some basic advice during this session by Club PRO Stephen Fitzpatrick on the course and a scorecard will be kept.
When this section is complete follow-on events will be organised.
All participants will be then encouraged to join the Give Golf a Try Scheme to allow them play for a further three months or to become full members if they so wish.
---
Team News
Enniscorthy Golf Club
Leinster Provincial Towns Challenge Cup champions
AGAIN
Cometh the hour cometh the men, for the second time in a row
On Saturday 25th August 2018 the second leg of the final of the Leinster Provincial Towns Challenge Cup was played in Dunmurry Springs G.C. in Kildare between the holders Enniscorthy G.C. and Dunmurry Springs G.C. after they had visited us two weeks previously and went home with, by their own admission, an unexpected 5-4 lead on a rain soaked day. First team to ten victories would seal a victory to claim the cup.
Just as in last year's final, this one was filled with ups, downs and drama right to the very last shot played. The tension was unbearable with the scores toing and froing from all over the course. Players were up with their scores and the next time you heard a score filtering through it had been reversed.
In the previous rounds E.G.C. initially played, Ballymoney G.C. then Arklow G.C., Courtown G.C., Waterford G.C. and Tulfarris G.C. in the semi-final. It has to be said that the dedication and perseverance of this squad of players has to be admired, the practice sessions that they put in at home and all the times that they travelled to the away courses to get familiar with the lie of the land so to speak in preparation for match day. Of course, they also would have learned a lot from last year's winning team too. Amazingly there are only two players common to both teams, namely the hero of the day Davie Murphy and Eddie Doyle. Such is the strength in depth within the club. But everyone was a hero at some time in the seven matches played, a true team effort.
The day started with the Enniscorthy contingent involved gathering early at the club in a resilient and focused mood, and why not as there was a job to be done. Hours later as the match results started to come to their natural ends the scoring wasn't in our favour and with two matches remaining a play-off was as much as we could hope for as there was no way that you could see an outright victory. The home team were determined to win and boy did they come close, agonisingly close, so close they could touch it, it was heard that they naively told their players that they had it in the bag but these matches are never over until the handshake. First to ten wins it.
This is how it unfolded as the scores came in and not in the order that they played, Dunmurry Springs team players names first –
Sean O'Gallochoir beat Davie Murphy 5/4. Match score 6-4.
Colin Doyle lost to James Sheridan by two holes. Match score 6-5.
Richard Kelly lost to the caddyless Eddie Doyle 2/1. Match score 6-6.
Alan Broughan lost to Denis Dunbar 4/3. Match score 6-7.
Mark Neville lost to Thomas Kielthy 3/2. Match score 6-8.
Ernie McMullen beat Brian Sinnott 3/2. Match score 7-8.
Ben Mongey lost to Charlie Hogg 4/3. Match score 7-9.
It is getting close now. One more will do it for us.
But it is looking unlikely with our remaining two players 2 and 4 down and a playoff is looking very likely so our Davie heads off for a practice and a warm up having finished playing an hour previously.
Barry McLoughlin beat Anthony Byrne 4/3. Match score 8-9.
On the sixteenth Eddie Balfe was two down and in order to keep that game alive, as we knew Anthony was losing at this point, he had to get a putt from just off the green of some 25'; needless to say he did it to rapturous roars of approval. So on up to the seventeenth where our man clawed another one back. All down to the last hole which if he could win would give us the cup. Eddie hit a monster drive and was well positioned for the pitch in which he did to 7 or 8'. Conan's drive was under a tree out to the left and with water between him and the green he had to lay up short of the green as he had no shot in. His pitch in bettered Eddie's marginally, we all thought that his previous two shots were not executed as well as he would have liked. I wouldn't go so far as to call them duff shots but they weren't cleanly hit yet somehow he ends up just inside Eddies ball on the green for three. That's the rub of the green for you. OH the tension and excitement! Eddie goes for a birdie three and the tournament win but agonisingly just misses and Conan gets his par to win their match. Match score 9-9.
So now it is a playoff. The rules dictate that the first pairing out must play the extra holes. The chosen holes are numbers 14, 15 and 16. A trilogy of holes tucked away in a field of their own behind the clubhouse, Dunmurry's own Amen Corner. A par 5, 3 and a 4. The home crowd loved this, outnumbering us by 10/1 easily, as they knew that their Sean had beaten our Davie by six in the first leg and five in the second leg. I have to say at this point that the Dunmurry supporters were brilliant, there was craic and banter going on all day both out on the course and in the clubhouse before and afterwards. Gentlemen all. Even though we were strongly outnumbered a good golf shot was appreciated no matter who hit it, they clapped our lads as much as their own, maybe not quite as loudly but the sportsmanlike sentiment was there. The score line is not the whole story though, Davie had a leg injury from playing rugby the first day and was hoping to be drawn against Sean again to get his revenge but it was not to be second time out either. Who plays who, is not known until the team sheets of playing order are handed in to the GUI representative. His opponent played off of 10 but those watching knew he was capable of holding a much lower handicap by the way he played, indeed playing off of five only a few years ago. Sean played our course in 1 over and his home course in -1, very hard to beat a player with those scores. What Dunmurry didn't realise was the determination in Davie to win this playoff, demons had to be faced. So behind that scraggy beard was a very James Foleyesque steely grin and a fire in his eyes. We knew he would do it and Dunmurry didn't think he could. Caddied by his father Nicky on both days it was like a double whammy now heading in Sean's direction. The experience and guile of many a competition win and the raw talent, determination and ability in the son.
They drive off on 14, Sean is up the middle and Davie is out on the 16th fairway but it is not a problem. Davie irons in to about 90 yards from the pin just shy of a water hazard, Sean is about 10 yards further up. Both pitch in to about 8' from the pin. Sean misses and it's a birdie for our man. Simple game really. Par 3 next and 1 up. Davie drives into the setting sun first, clears the huge pond that stretches from tee box to the green but very few if any could see where it landed due to the sun. Sean's ball falls agonisingly short of the green and splashes in. Davie finds his ball just off the back left of the green and stands over it. Sean takes his third shot from where the ball first crosses the water and unbelievably dumps it in the water again. With this he makes the walk over to our man Davie with the outstretched hand of defeat. Let the celebrations begin. It was bitter sweet to say the least, a less than satisfactory way to win and a horrible way to lose after all the great golf that had preceded this unfortunate end to the tournament but a win is a win and that is golf, it can be a cruel game at times.
Supporters are always welcome and needed at these events, not just for the support and encouragement of the team but to act as spotters and to help in looking for the occasional stray ball. It all helps as it is a team effort from the club as a whole.
The scene at the back of the 15th green very shortly after victory had been declared and Davie's team mates and family had raced over to watch his jig of delight (back to the camera), it wasn't quite dancing at the crossroads but it will do!
Time for the speeches……
Hon. Sec. of Leinster Branch of GUI Joe McNamara started the proceedings by stating that the game was played in Great Spirit and wished the heartiest of congratulations to E.G.C. and that they defended their trophy with style.
Keith Smith, captain of the Dunmurry Springs team complimented everyone involved in their club for the effort that had been put into the condition of the course for the final and that now the wives could have their husbands back. He also thanked the bar and catering staff for putting in a long day. He told his team to hold their head up high as it was an unbelievable achievement for their club to get this close.
Dunmurry Springs Club Captain George Kennedy said that the courtesy extended to his players and team was unbelievable in the run up to the final for practicing purposes and on the day of the first leg by ourselves. The match, as a whole, was played out in a sporting manner throughout. We are defeated but unbowed. We will be back he said defiantly.
Enniscorthy Club Vice-Captain and team manager John Byrne, E.G.C. Vice-Captain and team manager John Byrne, a fantastic day for Enniscorthy and this, holding up the cup, is the culmination of three years of hard work. Dunmurry are easily the best team that we played all year. You will have your day again. The course and players are a credit to your club.
Enniscorthy Club Captain Tim Morrissey said it was a great thrill to be here to witness it all amongst this sea of black support (all of Dunmurry were dressed in black including most of the supporters too). He apologised for being party poopers.
And so to the clubhouse and long overdue refreshments whilst mulling over the key points of the days golf. Everyone was treated to a sumptuous 3 course dinner and then maybe, just maybe a few pints were had. Then back to our own clubhouse for a nightcap. Unbelievably some of the squad were talking about playing again the next day in one of our club competitions. Have a rest lads.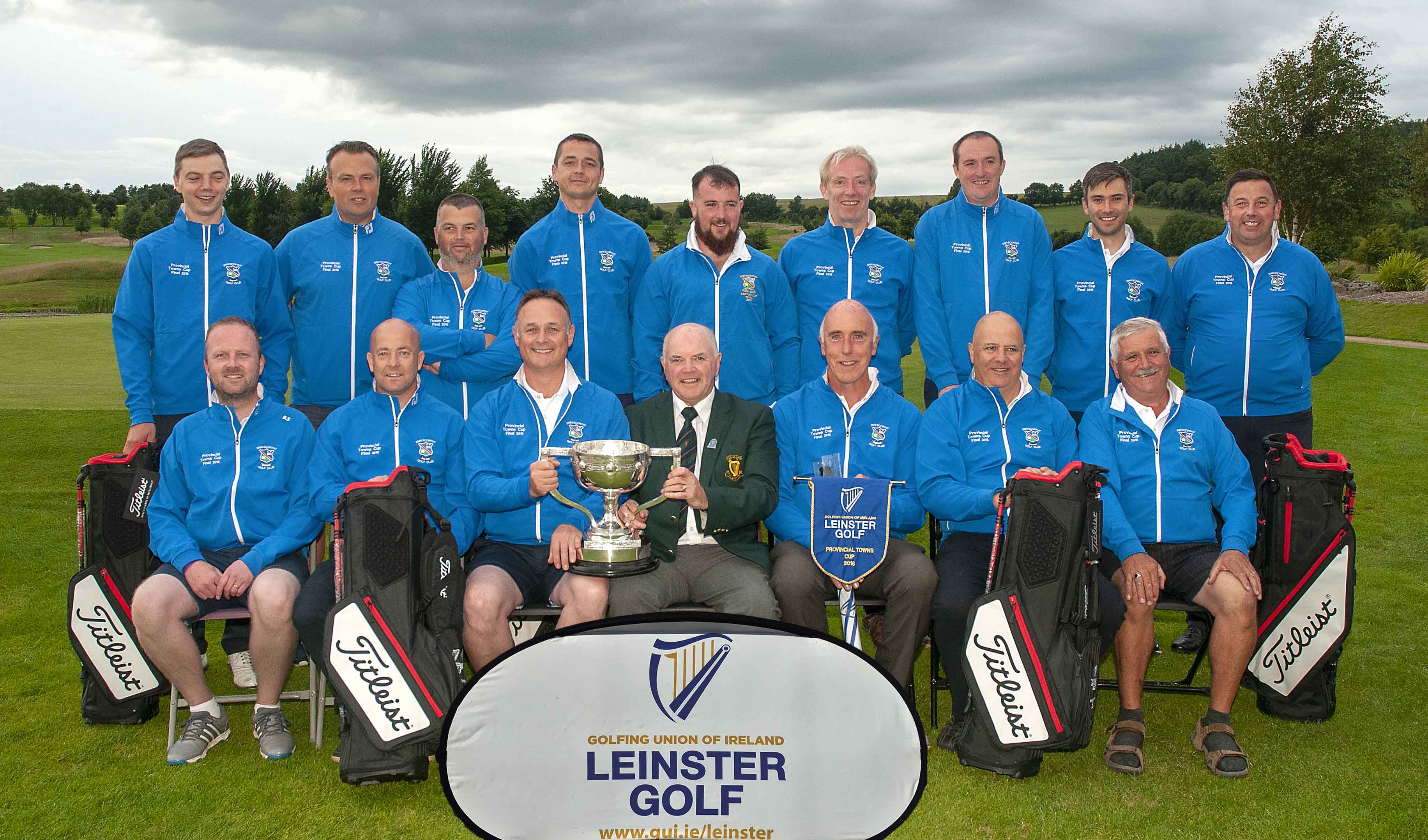 Playing members and management of our Provincial Towns' Challenge Cup champions. Back Row: Charlie Hogg, James Sheridan, Denis Dunne (reserve and caddy), Thomas Kielthy, Davie Murphy, Fintan O'Sullivan (assistant team manager and unanimously voted caddy of the year), Eddie Doyle, Anthony Byrne, Nicholas Cahill (sponsor and caddy). Seated: Brian Sinnott, Eddie Balfe, Club Vice-Captain and team manager John Byrne, Hon. Sec. of Leinster Branch of GUI Joe McNamara, Club Captain Tim Morrissey, Denis Dunbar and Liam Dunbar (reserve and caddy). Our thanks go to club member Nicholas Cahill, proprietor of NCRS on the Old Dublin Road and Donohoe Skoda at Quarrypark for their generous sponsorship.
For any of you golfers reading this, if you are wondering about which course to go to somewhere up the country then I strongly recommend Dunmurry Springs, it's a gem. The place was immaculately presented for the final, the welcome we got was genuine and the players tell me that the greens were as devious as you could get. For a course that is only fifteen years old it is surprisingly mature. Well worth a visit. Tell them I sent you!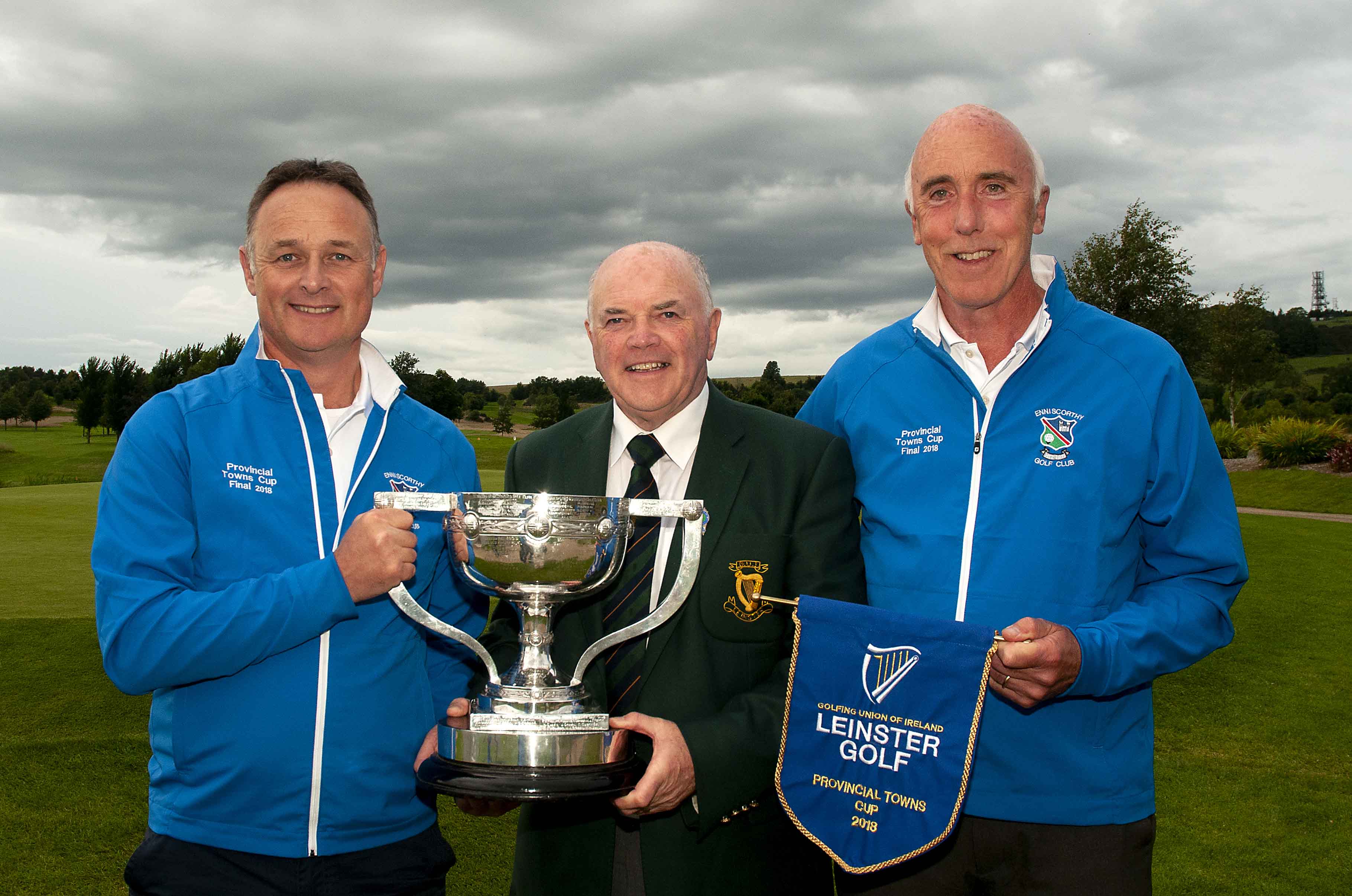 This is what it was all about, a fantastic looking cup, The Leinster Provincial Towns Challenge Cup. This was Enniscorthys' third final since 2014 and two in a row winners and 55 teams entered this year. Interesting to note that in this cups early days that the names of the winning players are inscribed on it but with space running out this is now limited to just the winning clubs name.
Enniscorthy Golf Club is the most successful club in the country for winning provincial and national honours and that record is now even further enhanced. Why not join the club and see for yourself what makes this club so good. Junior coaching is top of the range, the facilities are brilliant and the course has to be one of the best in the region as it has the strange ability to be a challenge for the expert and a pleasure for the novice golfer at the same time. Yes, we don't understand it either but that is the way it is!!!