Enniscorthy Golf Club is a superbly manicured parkland golf course, with mature, tree-lined fairways, excellent greens and great natural beauty in the foothills of the Blackstairs Mountains. It is located right in the center of Co Wexford and is only about 1 hour's drive from south Dublin. We have almost 600 members with very vibrant Men's, Ladies and Junior sections. The club caters for Oversea and Distant members. Oversea members are mainly from UK and USA and as far afield as Australia.
The Club has a very successful competitive history in both the ladies' and men's inter club competitions.  In the last 10 years accolades include the Barton Cup (3 times), Provincial Towns' Cup Twice, All-Ireland Mixed, Irish Ladies' Junior Cup (three times), Irish Ladies' Intermediate Cup, Irish Ladies' Junior Foursomes and numerous provincial titles. In 2017 Enniscorthy became only the second club to win Barton Cup and Provincial Towns Cup in same year.
Enniscorthy regularly hosts Golf Ireland competitions. In 2017 it hosted the Leinster Final of the GUI All Ireland Four Ball and ILGU Mid Leinster Women's Championships. In 2018 Enniscorthy hosted the Jimmy Bruen Final. In 2021 we hosted the Golf Ireland Boys U18 Leinster Open Championships. In 2022 we hosted the Leinster Central finals of Golf Ireland's Junior Cup for both Men and Women.
"One of the priorities on present day golf courses is to enhance the ecological system and not eradicate it."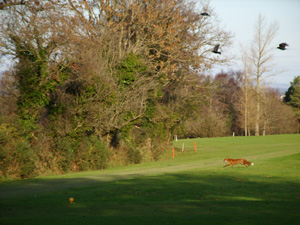 In Enniscorthy we have a policy to use eco friendly products where possible (e.g. 90% of all fertilisers we use are organic). All of our new machines can run on Bio fuels and all the washing from the machines are treated before being released back to the water table. One of the biggest pressures on greenkeepers today, is to produce a quality playing surface without the use of chemicals. Most of the chemicals on the market when I started here 23 years ago are now banned because of the adverse effect they had on the whole eco system. They were used not just for the target they were intended e.g. Lindane was sprayed every 4 to 5 years for leatherjackets, its replacement is more of an irritant than a pesticide. Large punitive fines are imposed on clubs if any chemicals that are not passed for amenity use are found on the premises. This is because the general public can come into contact with these chemicals.
Golf courses are frowned upon for their wastage of water through irrigation. This could not be further from the truth. In fact, irrigation is used to keep grass alive during times of drought, with a firm dry surface still being maintained where possible. Night time irrigation takes place to minimise evaporation this in turn saves water.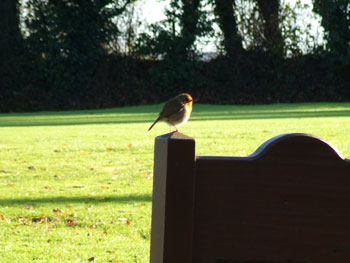 Our trees are mainly native, with some planting of evergreens in the past to enhance the winter look of our golf course. Some of our winter work program over the next few years will see us removing a number of the evergreens and replacing them with native trees. Our native evergreens Scots pine won't be included in this program. The trees are very important to the ecology of our course, from nesting areas for birds to habitats for thousands of bugs and fungi.
Enniscorthy Golf Course at the moment has approximately 2 hectares of prime habitat (wild areas) we can see that the inhabitants have increased greatly in the last couple of years. These areas are totally untouched by chemicals they are full of wild flowers e.g. Buttercups, Violets, Poppies, White and Red clover, plus many more. In the closely mown areas they would fall in the weed category and be eradicated. Definition of a "weed" is a plant in the wrong place, the problem being that nature knows no boundaries.
Foxes, Hares, Rabbits, Stoats, Rats, Squirrels and Mice.
Birds
Resident
Crows, Jackdaws, Raven, Magpie, Pheasant, Thrush, Blackbird, Sparrow, Robin, Wren, Woodpigeon, Wagtail, Yellowhammer, Finches, Linnet, Snipe
Migrants
Lapwing, Plover, Starling, Swallow, Fieldfare, Woodcock
A Kestrel patrols our sky by day and a Barn owl can be seen at night. I'm sure both are only visitors to our course but they have lodgings close by. From time to time you can spot migratory birds on their way to or from their wintering grounds in Wexford slobs and wildlife reserve.
One of the down sides of our job is the weather especially the last two summers with incessant rain. But have no doubt its all part of natures cycle, it's been bad for golf, but good for our aquatic eco systems.
Autumn has slipped in without us realising and this was probably due to continuous rain since early July. We recorded 180mm of rain on the course for July that was exactly what we didn't need after the summers of 07 & 08. From a greenkeeping point of view we are glad the summer is over because of the uncertainty of the weather. We found great difficulty keeping the course up to the standard required. We also have a drainage problem with most of our old bunkers and we hope to address this problem in the near future.
Fauna & Flora:
Some parts of summer still remain, the Swallows on the course continue to nest in our sheds with another clutch of fledglings getting ready to take flight.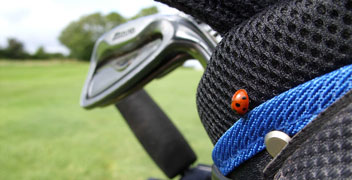 These probably won't survive the long migratory flight to South Africa, but this is nature's way of insuring that only the strongest survive to breed on their return next year. In early June I heard the Cuckoo for the first time in years on the course but I didn't catch sight of it. This year's fledglings are all very evident on the course at the moment, with the Wagtail population having increased greatly towards other years. In early August I noticed the big male Hare on the course had broken his front leg, none of the course staff have seen him since, unfortunately he probably has become part of the food chain. The leaves are starting to change colour with a great spectrum of brown, amber and gold on display. The down side is the problems they cause when they fall and accumulate the underlying grass will die. As a result we need to blow them to areas not in play or collect them.
Autumn Schedule: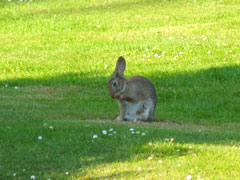 Our work for Autumn/Winter is already under way. We finished Verti – draining and sanding our greens the last week in August. The sanding of the fairways is next on the agenda but with present weather conditions it could be very difficult. Renovation of the tees and replacing the turf on all the damaged areas will take up enormous amounts of time this Autumn / Winter due to the damage done over the wet Summer. Hopefully we will get a big improvement in the weather, maybe even an Indian Summer.
We still need to do some work with trees around the course varying from removing limbs to felling any unhealthy ones. What we must not forget is during this time the grass continues to grow and this also needs attention. In Autumn / Winter we have to be very vigilant for disease on the greens as it can have devastating effects on the putting surface. Some of the forecasters are predicting a good Autumn lets hope they are right this time.
The first month of winter this year was by far the worst November I have witnessed since I started here in 1986.Continuous rain, day after day on top of one of the worst summers on record, has left the course showing signs of severe stress. Grass is very resilient but can't cope with being under water for days and in some places weeks. After saying all that we have had the best of the bad weather, when you consider what the people in the west of Ireland have been through. Thankfully December has brought some crisp cold weather, all ready it is noticeable on the course. Drying conditions are poor but the water table is dropping which makes an enormous difference to under foot conditions.
Fauna & Flora
All the leaves are on the ground now, with the Oak being the last to give way to the onslaught of winter. It is a very good year for berries with most of the fruit bearing trees laden with reds and yellows. These will disappear very quickly with the small birds coming under severe pressure for food due to the cold weather; this food source will be quickly exhausted. With all the crops harvested our resident hares are spending more time away from the golf course. They show up only about once a week now but they look strong and healthy so the winter should have no effect on them.
Winter work
At the moment we are repairing the damaged turf around the course. This should be done 3 to 4 weeks ago due to weather conditions we are playing catch up. This type of work will show it's through worth in late spring so it's important to do it properly now. We are also removing lower branches from trees around the course and removing any dead or diseased trees in the process. We have also planted 200 new trees as replacements. Work wise we will be glad to see the back of 2009; this was a nightmare year to maintain a golf course due to the non stop rain.
Finally I would like to wish everyone a Happy Peaceful Christmas and a Dry New Year.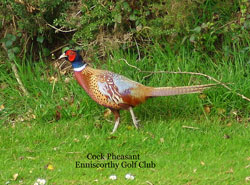 Spring has arrived by name but not by nature, with sub zero temperatures every night it feels more like January, 90 out of the last 100 days we have frost each morning. Another thing we forget is how little precipitation we have had in the last 6 weeks (17mm) due to all the above grass is under severe pressure and will take several weeks to recover. We are three weeks behind with our maintenance plan for spring, hopefully the temperature will increase soon so we can get on with the work.
Flora & Fauna
All the birds are very busy readying their nests for the new arrivals. At the moment the Crows are striping some of the greens to line their nests in between times when the greens are not frozen. The smaller birds are struggling in the Arctic conditions hopefully the warmer days will soon get them back to their best. Last week while checking the course to our great surprise we disturbed a young hare (last year's leveret) as it accelerated away we noticed it had a white spot on its left hip, exactly the same as the old hare that died last autumn. I'm not sure if it's a male or female but its definitely one of his offspring.
Fingers crossed now with all the cold and wet this winter we will have a blistering summer. We have a lot of work to be done, with a bunker drainage plan being finalised and some extensive surface drainage being done on the wet areas we definitely need some luck with the weather. Hopefully it will all go to plan and everyone will enjoy their golf.
Summertime and the golfing comes easy. Gone are the dark days of winter and springs glorious awakening. Bright evenings, firm underfoot conditions lead us back to the fairways with a spring in our step.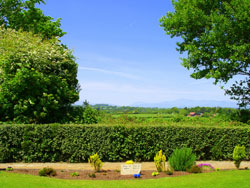 The trees on the course are now in the full flush of foliage. Blossoms abound. Our native furze in a sea of golden resplendence and can compare to the more exotic blossoms of warmer climes.
Our course can truly claim to feature the 'forty shades of green'. By way of contrast the copper plum, red maples and some white poplars are visible highlights.
Shrubs such as Azaleas, Rhododendron, Pieris, Abutilon, Viburnum Broom, Potentilla, Hydrangea and Crocosmia lend a splash of colour in their varied seasons. We all rejoice in the dry, smooth fairways and the fast greens and the fact that the ball rolls those extra yards makes us feel as if we have a new lease of life.
We are fortunate in our club that a varied programme of very competitively priced open competition draws golfers from a wide range of clubs and many old friendships are renewed and new ones fastened during those days. Captains and Presidents prize days and the socials which follow them are the very essence of golf club life and the highlights of the year.
Wexford's lush farmland is all around us with the Blackstair mountains and majestic Mount Leinster guarding our western flank. The purple and gold shades of the setting sun are a joy to the eye and lead quietly and peacefully to the soft summer darkness. So if you wish to enjoy good golf, hospitality and good food you would do well to wend your way to enjoy the first class facilities which we offer.
Cuileann is coll is trom is cárthain, Thugamar féin an samhradh linn Is fuinseog ghléigeal Bhéal an Átha
P.J.Dempsey
Course Superintendent