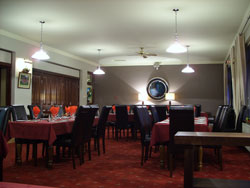 Catering hours effective from Friday 16th June 2017 -30th September 2017
| | |
| --- | --- |
| Mondays | Pre Bookings Only |
| Tuesdays | 12.00 – 19.00hrs |
| Wednesdays | 12.00 – 18.00hrs |
| Thursdays | 12.00 – 19.00hrs |
| Fridays | 12.00 – 19.00hrs |
| Saturdays | 12.00 – 19.00hrs |
| Sundays | 12.00 – 19.00hrs |
Food served after last orders will be cold plate only and must be ordered before last order time above, and may be ordered in Bar or Pro Shop
Catering for functions may be arranged by contacting office 053 9233191 or Adrian on 083 300 4021
Notes:
1.In the event of the course being closed due to inclement weather the catering hours may be curtailed.
2.The listed opening hours are subject to review by the Management Committee.
3.To facilitate pre-booked functions the listed opening hours may be extended.