August 2019
9-year old Ruairi wins 2019 Flogas Irish Junior Open Summer Series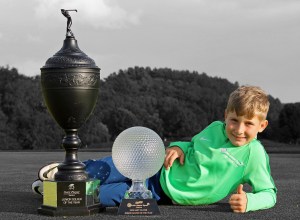 The 2019 Flogas Irish Junior Open Summer Series has come to a triumphant conclusion as nine-year old Ruairi Cooper from Enniscorthy Golf Club scooped the prestigious Gary Player trophy as the tournament winner. As part of his winning package, he will soon be teeing off at the award winning La Cala Golf Resort close to Malaga in Spain, along with many more opportunities over the coming year.
The Flogas Irish Junior Open Series is now in its sixth year and has grown to become Ireland's biggest of its kind and one of Europe's largest, attracting over 2,000 competitors in the last year. With 100 overseas entries in 2019, from Australia, America, China, Canada and Europe, and with a resounding endorsement from the legendary golfer himself, Gary Player, the Series continues to increase in size, scope and stature each year.
Speaking at the end of the Series, John Rooney, managing director, Flogas, had this to say, 'It's a pleasure for Flogas to be involved with the Irish Junior Open. The way the young participants are encouraged, supported and enjoy a five-star experience throughout is something that we as a company wholeheartedly support."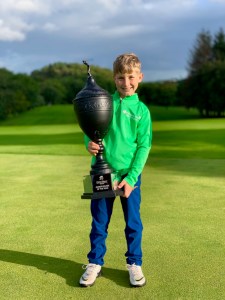 Series founder Michael Gallagher from MG Pro Golf spoke of how his passion for growing the game and providing the ultimate tournament experience drives his hunger to continue with new and exciting opportunities for the younger generation. 'Starting out, my goal was to create opportunities that just weren't there for future golf stars to shine. The continued growth of the Irish Junior Open, along with our Adult/Junior events and the new 'Champion of Champions' World Invitational in 2020 will, I believe, continue to raise the benchmark for junior competitions in Ireland and beyond. None of this would be possible without the support of the many generous sponsors who support my vision of enabling more junior golfers to enter the game and play against competitors from all over the world on a professional platform'.
To find out more on the 'Flogas Irish Junior Open' and the upcoming Winter events please visit www.irishjunioropen.com
Sunday 16th July 2017
Provincial Towns have won their semi-final final against Newbridge. Eunan Doyle and Davie Murphy won the first two matches away while Sean Hegarty, Shane Fortune and Eddie Doyle won first 3 games at home. Jim Mackey at home and Declan Byrne were called in. Denis Dunne and James Foley had earlier lost away. Congratulations to management team of Tim Morrissey and John Byrne. First leg of final is away on 6th August against winners of Headfort and the Heath with the home leg on 20th August. Well done to all again on a great performance getting club to final for only 2nd time in our history.
Well done to Ladies' Junior team who qualified for regional finals today following victory over Wexford in St Helen's Bay. Finals in Tramore early September.
Barton Cup
Paul Conroy & Butch O'Connor have just won their match on the 18th in Charlesland to give the Barton Cup team the win that puts them into the semi-final. Earlier Shane Fortune & Martin Sludds and Adam Jordan & Nicky Murphy had won their matches at home. Paul Lynch & Liam Sheridan were beaten on 22nd hole, having being 4 down at one stage before staging a brilliant comeback. Eddie Balfe & Patsy Kavanagh put in a great effort before eventually losing their game in Charlesland.
Congratulations to all players on a great performance and also to management team of Murt Mangan, Jason Rackard & Paul Connolly. A semi-final against the winners of Woodbrook and Killeen awaits. That 3rd Barton Cup just got one step closer……
INTER CLUB TEAM RESULTS May 2017
The Provincial Towns are playing in the 3rd round of their competition with a match against Ballymoney G. C. on Sunday 4th June at 3:30 pm. We have 5 matches at home and 4 away. Please come along and support the teams if you can.
The Barton Cup team played European Club last Thursday. We had two matches at home and three matches away and we won the two home matches Paul Lynch & Liam Sheridan and Shane Fortune & Martin Sludds. The overall result was secured when Paul Conroy & Butch O'Connor won their match. Those who were called in were Frankie & James Morrissey and Eddie Balfe & Nicky Murphy. Management team were Paul Connolly, Murt Mangan and Jason Rackard. Congratulations to all concerned. For the fourth round we have a home draw against Callan G.C.
Please come along and support the teams if you can.
---
Our Barton Cup team have progressed to a 3rd round meeting against the European Club by defeating local rivals Bunclody G.C. on a scoreline of 4 games to 1 on Saturday 6th May. Frankie/James Morrissey and Paul Conroy/ Butch O'Connor won in Bunclody. Shane Fortune/ Martin Sludds and Adam Jordan/ Nicky Murphy won at home with our 5th pairing of Eddie Doyle and Lee Quigley putting in a great effort before eventually losing on the 16th. Congratulations and well played to all our players. The team is managed by Murt Mangan and ably assisted by Paul Connolly and Jason Rackard.
Our provincial Towns team played Wexford G.C. in the second round of the competition on a tough Wexford course in glorious sunshine and on very fast greens which were personally manicured by greenkeeper Joe Cashin. There was a great performance in particular by our away team (Declan Byrne, Eamon Doyle, Denis Dunne, James Foley and Davy Murphy) who won 4-1. The home team (Eddie Doyle, Shane Fortune, Sean Hegarty and Jim Mackey) won 2-1 with the 4th match called in. They will play either Arklow G.C. or Ballymoney G.C. in the next round. Congratulations to all the players and the managers (John Byrne and V.C. Tim Morrissey).